[China Daily]Increase seen in students learning Chinese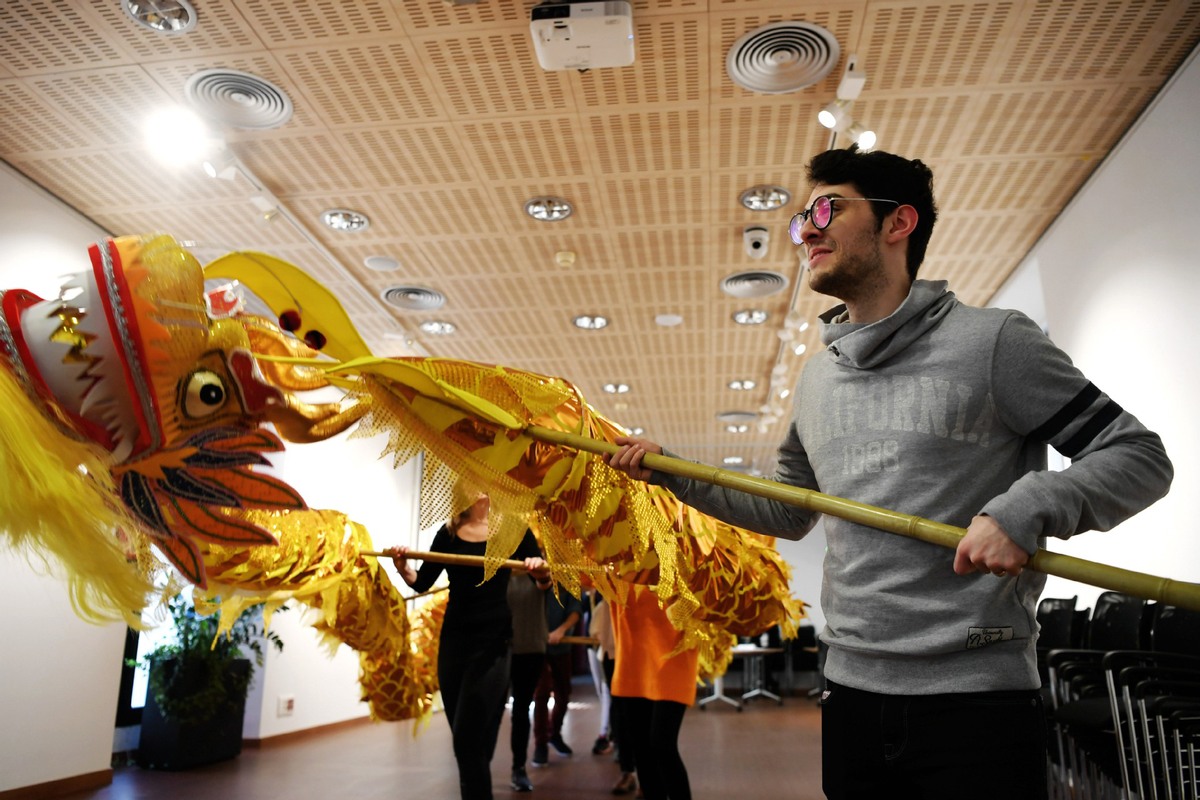 Students of the Confucius Institute in Barcelona, Spain, prepare in February to perform a traditional dragon dance to celebrate Spring Festival. [Photo/Xinhua]
More Spanish students are learning Chinese thanks to increasing economic and cultural exchanges between Spain and China.
More than 40,000 people are learning Chinese in Spain, and more than 8,000 have taken the Chinese Proficiency Test, which is for nonnative speakers, Xinhua News Agency reported. That places Spain in first place for Chinese learners in the European Union.
The Spanish government also has advocated for the progressive incorporation of Chinese in school curricula.
Teresa Romero Sanchez-Herrero, 26, has been studying for a master's in China studies at the Yenching Academy of Peking University since last year.
"Chinese, which is alien to me in structure and etymology, provided me with a new conception of the possibilities of communication," said Sanchez-Herrero, who can also speak English, French and German.
For native speakers of Spanish, learning Chinese is, at first, a toilsome and slow process. However, as one gets acquainted with grammar patterns, progress becomes exponential and studying turns Chinese into a very satisfactory experience, she said.
"As a student in Spain and the United States, I was hardly ever introduced to history, philosophy, ethics or any area of humanities or social science through a perspective other than the Western view. I would like to develop a global view, and so I have worked to compensate for this bias by studying and experiencing cultures and social settings different from my own."
Montserrat Garcia, 21, a third-year undergraduate at Renmin University of China, said learning Chinese became inevitable after her family moved to China when she was 6 years old.
"Learning Chinese wasn't such a hard experience for me. I learned while I played in the playground with my neighbors. I didn't choose to learn Chinese, but I'm definitely grateful that my parents did for me," she said.
"I think that Chinese is an extremely beautiful language. It is a language full of culture behind it. It is a language without limits, a language so rich that you'll never be able to know it all."
She believes that the secret of learning Chinese, and any other language, is to be brave enough to speak it. "Even if you only know three words, use them, don't be shy or feel insecure, because that's the main thing that stops us from learning."
"I believe that Chinese can take you very far nowadays, and I've seen it with my own eyes that Chinese is the language of the future."
Gabriel Losada, 24, who is studying for a master's degree in Chinese literature at Yenching Academy, has studied Chinese for six years.
He said his preferred method of study is not to sit with a book for hours every day and try to memorize everything.
"I think that when you are learning a language as difficult as Chinese, you really need to enjoy it, so I usually learn Chinese by watching movies, TV series or listening to music."
When he talks to Chinese classmates, he said he is able to use cultural references they are familiar with, which has helped him in establishing better relationships because they can talk about current affairs.
Since Europeans are often engaged in cultural exchanges with their neighboring countries, an interest in learning about other cultures was natural for him.
"I think that more people are starting to be more interested in China now and China is much more present in the world. We also have more Chinese people living and studying abroad, so it's only normal that people are feeling more of an interest in China."
Also, since the Chinese market is so huge, lots of companies from Spain are becoming more interested in exporting their products to China, he said.
原文链接:[China Daily]Increase seen in students learning Chinese
人大新闻网版权与免责声明:
① 凡本网未注明其他出处的作品,版权均属于人大新闻中心,未经本网授权不得转载、摘编或利用其它方式使用上述作品。已经本网授权使用作品的,应在授权范围内使用,并注明"来源:人大新闻网"。违反上述声明者,本网将追究其相关责任。
② 凡本网注明其他来源的作品,均转载自其它媒体,转载目的在于传递更多信息,并不代表本网对其负责。
③ 有关作品内容、版权和其它问题请与本网联系。
※ 联系方式:人民大学新闻中心 Email:news@ruc.edu.cn