[China Daily]Sharing economy shows resilience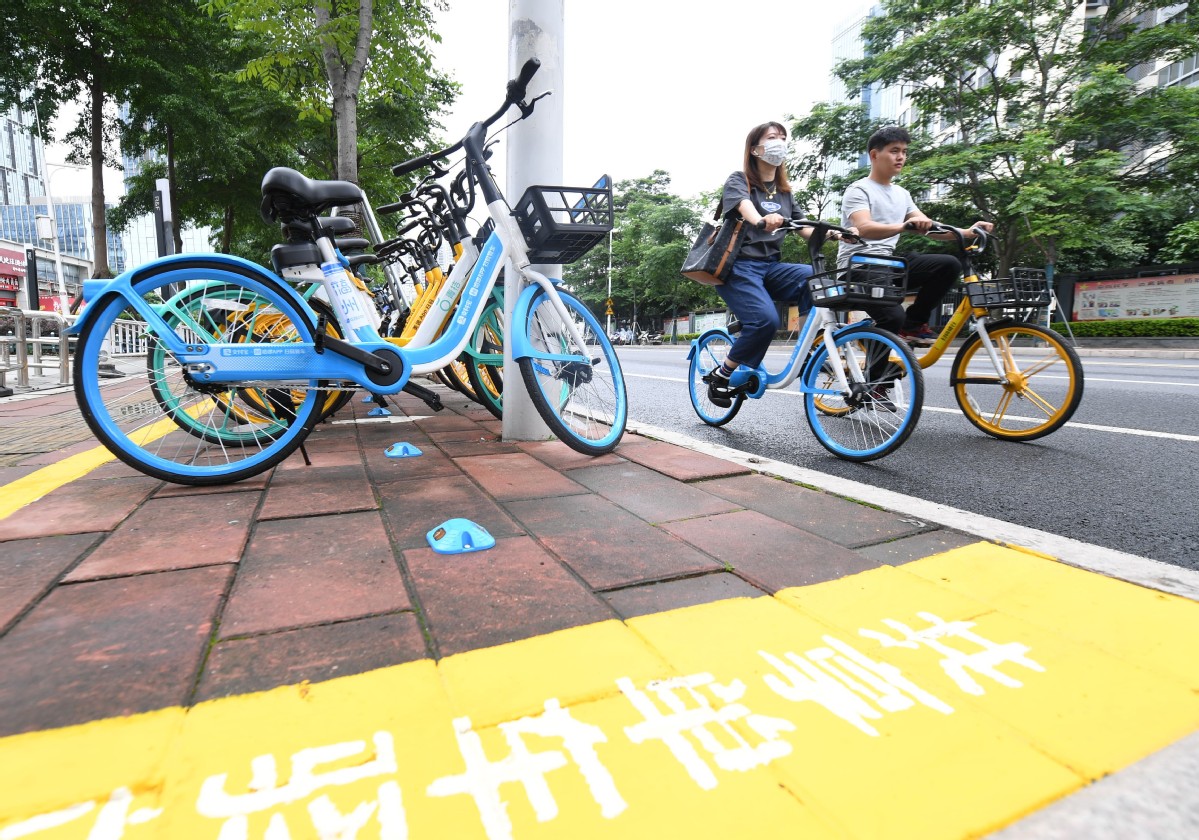 (Users of shared bicycles are seen riding in Fuzhou, Fujian province, in June. [Photo/Xinhua])
Consumption and services play key role in stabilizing industry growth amid COVID woes
China's sharing economy demonstrated remarkable resilience and potential in 2021 amid the COVID-19 pandemic headwinds, with a turnover reaching 3.69 trillion yuan ($581.9 billion), up 9.2 percent on a yearly basis, according to a report from the State Information Center.
The scale of direct financing for the sharing economy stood at 213.7 billion yuan in 2021, an increase of 80.3 percent year-on-year, the report said.
The sharing economy in the fields of office space, knowledge skills and life services witnessed rapid growth, with transaction volume growing 26.2 percent, 13.2 percent and 5.8 percent year-on-year, respectively.
The report also said the market size of the shared accommodation sector declined by 3.8 percent in 2021, compared with the same period a year earlier due to the pandemic and the adjustment of supervisory policies in some cities.
Although many short-term vacation rental platforms have adjusted their operating strategies and shifted their focus to rural homestays, the nation's shared accommodation segment is still facing huge pressure and uncertainty as pent-up demand for travel has not been fully unleashed and the new business model is not mature, the SIC said.
The report noted that sharing services and consumption play a vital role in stabilizing economic growth. For instance, revenue from online food delivery platforms accounted for about 21.4 percent of revenue in the country's catering industry last year, up 4.5 percentage points from 2020.
Furthermore, per capita spending on food delivery platforms took up some 21.4 percent of overall catering expenditure in 2021, up 4.4 percentage points year-on-year, while per capita expenditure on ride-hailing services made up 8.3 percent of travel consumption.
The flexible positions offered by the sharing economy are conducive to stabilizing China's labor market and increasing employment.
Food delivery platform Ele.me said 1.14 million delivery persons at the platform achieved stable incomes last year, with 1,877 of them being promoted to station and team leaders. A total of 10,203 delivery staff received vocational training from the platform last year, it said.
The report said competition in the sharing economy is set to intensify and the industry pattern will reshuffle. In addition, a series of policies and measures have been introduced to strengthen the protection of employees' due rights and interests in the flexible employment method, and supervision and law enforcement have been strengthened to further regulate market order.
Zhou Guangsu, an associate professor with the School of Labor and Human Resources at Renmin University of China in Beijing, said the platform-based economy has not only stimulated the growth of consumption, but also promoted its upgrade, which has injected more vitality into the economy and boosted employment.
Meanwhile, sharing economy platforms are facing potential risks and challenges in data leakage and data misuse and they should enhance their compliance level in data management, the report added.
原文链接:[China Daily]Sharing economy shows resilience
(责任编辑:吴珏林)
人大新闻网版权与免责声明:
① 凡本网未注明其他出处的作品,版权均属于人大新闻中心,未经本网授权不得转载、摘编或利用其它方式使用上述作品。已经本网授权使用作品的,应在授权范围内使用,并注明"来源:人大新闻网"。违反上述声明者,本网将追究其相关责任。
② 凡本网注明其他来源的作品,均转载自其它媒体,转载目的在于传递更多信息,并不代表本网对其负责。
③ 有关作品内容、版权和其它问题请与本网联系。
※ 联系方式:人民大学新闻中心 Email:news@ruc.edu.cn